In today's tech-driven world, it is crucial for startups to invest in SEO. Regardless of your product or service, digital marketing is a must if you want to succeed. The only way to make sure that your business gets the attention and recognition it deserves is by investing time and money into a comprehensive strategy with Search Engine Optimization (SEO) at its core.
With so many businesses competing on social media these days, it's essential that startups have their own digital presence to be seen online. In this blog post, we'll go over why every startup should be investing in SEO right now.
1. SEO is cheaper than other marketing strategies.
SEO is a cheaper form of marketing compared to other strategies. Not only are there no direct costs associated, but it also has little to no negative impact on your brand.
It is an effective marketing strategy that can be utilized by any business at a low cost. Instead of paying for TV ads that are only seen by a small percentage of the population, or newspaper ads that are quickly thrown away after reading, SEO strategies provide guaranteed results through search engine optimization. The best part about SEO is that it will continue to work for years and the only thing you need to do is just update content.
SEO can help get more visitors through search engines so that your business becomes visible online. This type of marketing helps increase traffic and sales by placing ads at the top of search results where people spend the most time looking when searching on Google.
2. SEO is the best way to increase traffic and leads.
Every business knows that the key to success is getting more visitors. SEO, or search engine optimization, is one of the best ways to increase traffic and leads for your website.
With all the competition in today's marketplace, it's important to make sure you are doing everything possible in order to get ahead. There are many easy steps you can take in order to optimize your site for SEO – from inserting keywords into each page title and header tag, implementing proper heading tags on every page, creating optimized meta descriptions with a call-to-action link back to your site on every blog post or article about something related to your industry – these are just a few things that can help ensure high rankings when people search for information relevant to what you offer online.
3. The more traffic your site has the more money it will make for you.
The more traffic your site has the more money it will make for you. This is because if you have a large number of visitors to your website, then there is more potential for conversions. For example, if someone visits your page and decides not to buy any products or services that you offer on that visit, but they do come back later with some sort of interest in what you are offering them – either by clicking through from another site or visiting again at a different time – this increases the likelihood of making sales exponentially.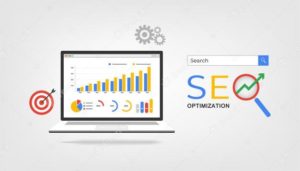 4. The higher your ranking, the more likely you are to be found by potential customers.
Do you want to be found by potential customers? If so, then it is important that your website rank high on search engine results from pages.
The Internet is evolving. People are no longer searching for information in the same way they used to. It's not just enough to have a well-designed website with great content that ranks on Google search engine results pages (SERP). You need to take into consideration how your site appears when it's shared across social media sites like Twitter, Facebook, and LinkedIn. That's where SEO comes in. Search Engine Optimization helps rank your website higher on SERPs by increasing the visibility of your brand through social media channels.
If you are a startup, or if you have been in business for less than 3 years, SEO might be the best strategy to help your company grow. We know how hard it can be to get visibility when starting out and we want to make that process easier by partnering with you on a marketing plan that leverages both traditional and digital media channels.
Our team of experts is ready and waiting to partner with you. Reach out today so we can create an effective SEO campaign together.