As We are now in 2020, we all are pretty aware of social media marketing. But do you think you can connect with people only using this basic knowledge? Of course, Not. You must have a complete understanding of social media marketing before getting started.
When you do social media for a particular profession like a dentist, interior designers, etc, your strategy differs according to the profession. And social media marketing is done right only when you have a pre-defined strategy. For that, you need to be very clear about your purpose of using social media.
In this post, we will explain to you how to social media for Dentists and learn how they can plan their strategies to use social media platforms for connecting with their patients.
When doing social media for the dentist its not only to convince people to come to your clinic but also you can use social media to connect with people directly to clear the doubts they have before coming to your clinic. The most challenging thing is to make people remember about their appointments they are trying to delay or ignore because of their fear.
So by when you manage your social pages, you are creating a place for your patients where they can talk to you without hesitation and you can also help them to overcome their fear.
Below is the list we have created especially for dentists that will help you take care of what to post on your social pages
Educate Your Patients
When you start doing social media marketing, always try to share posts that help people know more about dentistry. When you share some dental-related facts and tips for educating them about the importance of dental hygiene, they will understand the importance of dental routine checkup.
Also sometimes people may have some dental problems but because of a lack of awareness, they won't able to what it is exactly resulting in serious dental issues.
Help them to take action on dental problems before it gets more serious, by sharing an informative post that helps them overcome such issues
Share Reviews from Previous Patients
It's human psychology if you tell something good about yourself, people don't believe. But other people when telling that person about you then they surely believe them, this is called the word of the mouth. Same applicable online as well.
Where you can share the genuine feedback you got from your previous patients to your social media page, it influences the decisions of people who are looking at your social profile. When they read what your patients are saying about you, your staff & your services, it will be easy for them to trust you.
Remove the Fear of Going Dentist
The most challenging thing a dentist faces is rescheduling or delaying the appointments by patients. You might have to face the same, right? For this problem also you can take the help of social media. You can help people to overcome their fear of going to the dentist by sharing pictures for your successful surgeries, painless surgery, your happy patients, videos of conversation with your previous patients, etc.
While doing this always keep one thing in mind, do not share any scary images of your surgery or teeth. I have seen most dentists share images of Dental infections, dental diseases, bleeding teeth. Don't do that as it makes people avoid going to the dentist. Always take care of what images you are posting on your social media.
Share your Experienced Team Information
Before going to any dentist people will not know how good is the clinic and how many people are there in the team, what's their qualifications, etc. They are unknown to the clinic. On social media platforms, you can share images of your team, information about them like their qualification, experience. This is the pre-information for your patients to make them little familiar with people in your clinic even before they come to your dental clinic.
This is because when they see the team of qualified and experienced dentists you have, they will get the assurance of good dental treatment they are going to get.
Share Images of Dental Clinic
Nowadays, people believe in research before going to any place whether it is a restaurant or shopping center & when it comes to the hospital or clinic people are more conscious about hygiene. That's why the first thing people do, is search for the images and reviews for that place. We can consider it as a first impression of your clinic on your patient.
Social media is the place where you can share photos of your dental clinic. This helps them to take a step forward to you & also makes them feel more comfortable and confident before coming to you.
Share Details of Dental Services you Offer
Like I said before also, most people don't have any idea about the dental problems they have. Share the informative posts on your social media profile which guide them about dental services which they may need. Try to tell them about your dental services in easy language rather than clinical language.
For. ex. if I say " You need to do cosmetic dentistry", people will not able to understand this. But if I say "You can improve your smile if you opt for the cosmetic dentistry treatment", it will be a little easy to understand.
This will help you to connect with them. When you tell them about the dental services you are offering and they will try to consult you about their dental problem.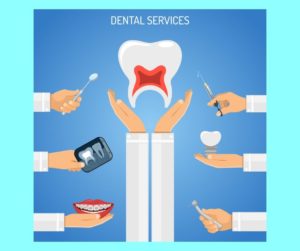 Share Before-After Images of Smile Makeovers
We see people who want to improve their smile, we call it in clinical language smile makeover treatment. But it is difficult for them to choose the best dentist who will give the best result they are expecting. You can help such people by sharing before-after images of smile makeover treatments you have done previously.
Same for the other treatments also. When you post before-after images of dental treatments, it shows that you are good dentists who have done all the surgeries successfully. When people see that, they started believing in you  & come to you without keeping any kind of fear in the mind. But here also you need to make sure your images should not be scary.
Now you know what to share the second most important thing is to create a content calendar.
So what is Content Calendar?
Content Calendar is nothing but a simple calendar that will help you create a complete timeline on what to share on which days on your different social media profiles.
How to create a social media calendar to the dentist?
To create a social media calendar for dentist the first thing you need is topic, now open Google sheet or Excel file & create a calendar by day like the one below
| | | | | |
| --- | --- | --- | --- | --- |
| | Week 1 | Week 2 | Week 3 | Week 4 |
| Monday | Post on Education Content | Post On Smile Make Overs | Share post on dental problems | Share about painless treatments |
| Tuesday | Post Reviews | Post Educational Content | Educate on the importance of routine checkups | Share the importance of smile makeovers |
| Wednesday | Post Painless treatment | Post Dental Facts | Share about upcoming events at your clinic | Post dental facts |
| Thursday | Post Dentist Facts | Share your dental services | Share Patient Reviews | Share dental tips |
| Friday | Post Clinic Images | Post Clinic Tour Images | Introduce your team | Post clinic images |
| Saturday | Post on Dental Services | Introduce your team | Post clinic tour | Share patients review |
| Sunday | Post Dental Tips | Share patient reviews | Share your dental services | Share your dental services |
You can also download the calendar from here.
Once you have a calendar ready, start creating content using your social calender & then once you create it start posting on your social profile.
The best results to achieve is to create a calendar where you will post 3 days/week & increase the number of posts once you become comfortable.
Let us know if you find any queries on mange social media for a dental clinic.
Also if you think this is too much work you may want to work with an agency like us to manage your social media for you.
Frequently Asked Questions
Why do dentists need social media?
A social media presence allows your practice to reach a wider audience and grow the patient base. As well as it gives you an opportunity to educate your patients on how to take care of their teeth better. Sharing some easy dental care tips on social media will help you to gain trust also it will help you to boost your presence in the market.
How can I promote my dental practice?
As a dentist, bringing in good clients, and lots of them is hard! There is a huge number of people who are online and using the internet to find information about their requirements. So, if you do not have an online presence, you are missing out on a huge number of potential customers. Local Awareness ads are a great way to reach a local audience and Facebook ads would be the best option.
How do dental clinics do social media marketing?
Social media can be an excellent source of new patients for your dental practice. Many dental clinics have an online profile on social media sites, and they simply post regularly to make people aware of their services. The most popular social media sites, such as Facebook, Twitter, and Instagram, can be used to drive potential customers to find your practice.