We all have seen the drastic change in the usage of the internet from the last some years. The default point of contact for getting any information regarding products or services is the Internet. And of course, anybody feels comfortable if they will get that information in their language. It is easier for them to understand your services/products and makes them feel free to connect with you if they can do it in their own language.
Having a website in international & local languages will have the target users to understand your product & services more easily & also allow them to connect with you with more confidence as they know you speak their language.
We have listed down the benefits of having a multi-language website so that users can easily understand your business & they know that they can easily understand them.
1.Cost-Effective tool
We do marketing of our business in various ways & spend a lot of money for that. A multi-language website is also a marketing tool and just a one-time investment. This marketing through the multilingual website gives you results in the form of selling products or services, creating brand awareness, giving new customers.
A multi-language website is more effective for getting results than a website in one language. We can communicate with an international audience in their language, which helps them to understand your business and resulting in a successful deal.
2. Bring new customers
A multilingual website represents your company on an international platform as well as the local level. When you have a multi-language website, your site will be accessible for English as well as non-English speaking users. This way you can expand the reach to a wider audience to people who are not native English speakers. An increase in reach increases potential customers and ultimately gives you new customers.
3. Customer-oriented
Customers always feel accepted, when you talk in their language. When your website speaks their language they feel empowered & confident. It also shows your business is customer-oriented & you are there to help.
4. Builds Trust
Many people feel insecure while purchasing anything from the internet. It is difficult for them to trust any new site. If you are targeting your potential customers and want to earn their trust you can remove the language barrier between you and your customers through the Multilanguage website.
A multi-language website makes your customers feel that they are getting personalized information as they are able to read the content on their website in the language they are more comfortable in.
5. Culturally Sensitive
To create a strong bond with your customers you need to interact with them and connect with them. Content in multiple languages on the website shows your respect and appreciation for their culture. When you allow them to access your website in their own language, they allow you to enter their culture's comfort zone. They will also be able to understand and interact with your website and understand your business very well.
As we are talking about culturally sensitive people, you need to be very particular and careful about the translated version of your website. You need to learn about their culture so that you can make your strategies better.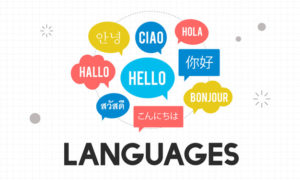 6. One step ahead of competitors
In this competitive world, various businesses are trying to make their position in the market. Of course, you are also in this race. Creating a multi-language website might just be the way to stand out in the market. Avail your content to the international & local people and establish your brand.
And if you think your competitors had already adopted this strategy then why are you still a step back to them? You also have to have a multilingual website.
7. Shows International Nature
We all know that saying, the first impression is the last. People visiting your website, when seeing multiple lingual nature of your website, they started thinking like you work and deal with international clients. They make their perception that they are working with a company that has an international client base and presence in the international market, which gives them a feel secure and convinces them your business is right to work with.
We hope you understood the benefits of a multi-language website & make sure that you create your existing website multilingually or start creating a new website as a multi-language website.
Frequently Asked Question
Why is a multilingual website important?
A multilingual website is an important and valuable asset for any business, as it allows them to reach a wider audience. The benefits of a multilingual website are that it can help you create more leads, increase your conversion rates, and generate higher revenues.
How can I create a multi-language website?
If you want to create a multi-language website, there are many options for translation services. The way you choose to translate your site will depend on the type of content and the amount of text that is being translated. You can also use an online service or hire a professional translation company in order to get high-quality, accurate translations.