Before talking directly about social media for business, first, we need to see how social media affected our personal life? According to the survey, we are spending 2 Hr 22 Minutes per day on social media. Now think, in these 2Hr 22 Minutes, if your business is appearing on social media once, your customers and/or clients will watch you daily. They will be able to see updates about your products and services daily. This is beneficial for new businesses to create Brand Awareness and for existing businesses to Build Trust. And these both are very important factors for any business to grow.
Many of us already thinking about marketing their business on social media. Some of us may already have their business on Social Media Platforms like Facebook, Linkedin, Twitter, Pinterest & Instagram. But are you aware of how is it going to help your business? What are the benefits of using social media for your business? Let's discuss it.
It is helpful for Pre-marketing
Pre-marketing is the way to let people know either about your upcoming new business or your new product or service or any offers before launching it in the market. Pre-marketing creates excitement in the people and they started discussing it.
For creating this excitement no other way is better than social media. It is the best place to spread awareness about your business.
Educate your customers with products and services
Social media is a good way to make your existing & new customers understand how to use your product services. On social media, if you are sharing posts related to your business, people will get to know about your services and understands what exactly you are providing them. When you start sharing images of your products on social media daily, this will keep your customers engaged with you, which helps you to grow your business.
It builds trust
Social Media gives you the chance to interact with your customers directly, which builds trust and you can get your loyal customers here. It is more of developing a healthy relationship with your customers by two way communication rather than just selling and promoting the products or services. Because it makes people believe in you, which is important for growing your business.
Keeping Social media active helps the potential customers to know you are business is active & you care about customers. It helps them view reviews of past customers know about your recent product & services, get insight into company culture which in-turns helps them build trust in your business.
Keep your customers updated with the latest offers
Offers and Discounts can anyway grab people's attention. When people follow you on social media always keep them updated with your upcoming offers. Due to this, they will always come and check your profile and stay engaged. This affects their buying behavior and increases the chances of purchasing your product or service.
Reach your potential customer
We do marketing and advertising for our business. But do we know if it is reaching our potential customers or not? Social media makes it easy for us to find out. When you run an advertising campaign on social media, you can select the people whom you want to show your Ads. You can sort them by selecting Location, Age, Education, Qualification, their Field of Interest, Job titles, etc. Using this, only the targeted people who will be your potential customers can see this advertisement and you will be able to reach them easily.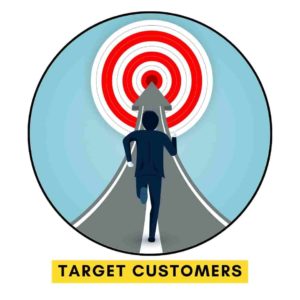 Potential customers can see your reviews and past projects
Like you are trying to connect with your customers, your customers are also trying to connect with you too & the most preferred way is through social media. When someone searches for you on social media to get your service or product, they research about you first that what you have done in your past projects & what reviews you got from your previous customers.
So, it is easy for them to choose you over your competitors by reviewing the feedback from your past customers.
Always ask your previous customers to give their valuable feedback, so that it helps new customers to know about your product or service and also you can improve according to the feedback.
For Competitor Analysis
Competitor analysis through social media? It may sound quirky, but you can research & analyze your competitor's marketing strategy. You can track what type of content they are posting to interact with people. This will help you to compare your results with them and learn from mistakes (if any) to perform better.
Here you need to make sure that you can learn from them but you can't copy, because the same strategy will not work for you.
I hope this does help you to understand the importance of having your business on social media. Create your profile on different social media platforms, start connecting with your customers & get your result served sitting on the chair.
Let us know your experience to interact with your existing as well as new customers through social media & how it helped you to grow your business?
Frequently Asked Question
why social media marketing is important for Small Businesses?
If people do not know about your business, they can't become your customers. Social media boosts your visibility among potential customers, letting you reach a wide audience by using a large amount of time and effort. Social media has been one of the most important places for consumer brands to interact with their customers. Social media is valuable for businesses of any size or industry and finding customers on social media has a direct impact on sales.


Can social media marketing really help my business?

Yes, it does help – a lot! social media helps get the word out and generates brand awareness. Many businesses are turning to social media to get their business out into the world. Social media really helps you grow your brand awareness and if you have your business website using social media helps you to increase your traffic tremendously. This is ultimately why you invest in marketing, right? so jumpstart your SMM plan, and get your business out into the digital world.
Which social media is best for business?
Social media for business can be a great way to engage with customers and develop a brand voice. Here are some best social media platforms for business that will help you to generate brand awareness.
Facebook
Instagram
Twitter
LinkedIn
YouTube
Reddit
Pinterest
Quora